In the Land of the Rising Sun
Two Thai girls, one Taiwanese, and One Malaysian in the "Land of the Rising Sun". We were supposed to be in Japan for the

sakura

season but it was almost over when we were there. There were only a few trees here and there, with the blooming coming to its end. The shot above was of a

sakura

tree near my hotel in Shinagawa. Nevertheless, I was still very lucky to catch my first ever

sakura

before they were all gone for the season.

Sakura

only blooms for about 10 to 14 days during spring in Tokyo, so make sure you plan your

sakura

season trip well.

The weather was good, cold but just nice for me. Wearing a tee or maybe two with a jacket and I was out on the street! This trip was truly great, one of the best I ever had. Although, there were a lot of walking and train-takings, the good weather was a great help, drizzling occasionally but mostly when we were done for the day.
This was the very first photo I took once I got off the train when I arrived in Shinagawa on the first day. This is the JR (Japan Railway) train station in Shinagawa. I visited this place everyday as this was my transition point to every other places in Tokyo!
My very first meal in Japan. McDonald's Teritama, a pork fillet dipped in Teriyaki sauce with egg burger. Yum Yum!
We spent the first evening in Odaiba, where I
had my first proper Japanese food ,

chicken katsu don

at Venus Fort.
Alright, it's all about food for now...

Nothing too special, it tasted almost similar to what can be found back home.
A Japanese post box.
Automated machines like these are found everywhere from the streets to train stations. Mostly selling cigarettes and drinks. You will need to be over 18 to purchase the cigarettes, hence, you will need a friend who holds a Japanese ID to buy this.
Some very delicious bun filled with assorted flavored cream such as green tea, red bean, vanilla and etc... Can be found at the Shinagawa train station, highly recommended!
Lockers are part of the advertising medium in Tokyo, which I think is very good as they made the place more interesting and visually pleasing.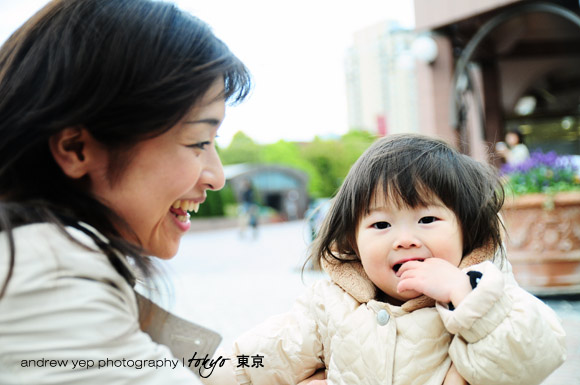 Introducing Kaori-san, and no, that's not her daughter. It was some kid we picked up from the street in

Yebisu

...

ka

waii-ne.

Kaori-san works as a Managing Editor in the Monthly Bowling Journal. It was very kind of her for being our guide for the day. It really was a whole lot easier traveling with a companion who could speak Japanese.
I think this is a Japanese

Akita Inu

breed. We found this pair at

Yebisu

, and the owner was kind enough to let us play with his dogs.
The auto ticketing machine available at any JR line. The cheapest ride would be 160 yen per trip.
Commuting is the most convenient and common way to travel in Tokyo. As seen here, a teacher leading a bunch of soccer kids trying to go to a match.
Waiting for the train at one of the many train stations.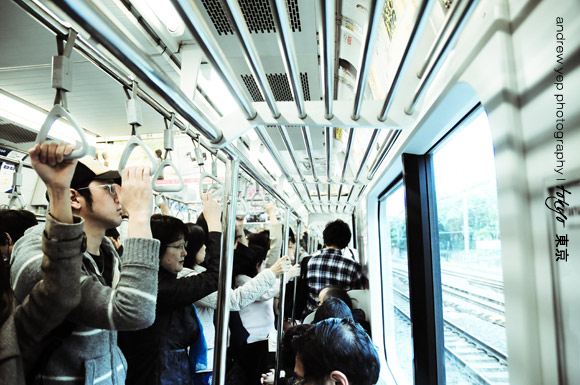 Commuting inside the JR train. The trains were usually packed with loads of people.
This is the

ShinYokohama Ramen Museum

. We traveled all the way from Tokyo to Yokohama, interchanged about four trains for this! It's a museum which houses many different kind of

ramen

stall. And each

ramen

stall comes with its own specialty

ramen

. So basically, you get a lot of

ramen

here!
One of the many

ramen

stall here.
The best

ramen

I had ever had. I don't remember the name but it's good...
The night view with the Tokyo tower from my room.
The day view of

Shinagawa

from my room on the 31st floor. Wanted to do a sunrise shoot on the last day but when I woke up at 5.30am it was already shining brightly! And there goes my chance to get a nice sunrise view here.
Found this shrine near my hotel.
Sakura blossoms. This tree had more green than pink.
A close-up of the sakura flower.
Shibuya, a very busy district with lots of people and places for shopping.

Look who I found here in Tokyo,

Show Luo

(
罗志祥
).
The shopping streets at Shibuya. A Zara building, amongst the many fashion labels available here.
We found this beautiful tree with white flowers on the way from Shibuya to Harajuku.
The busy street of Harajuku. This place is filled with many youngster, and yes there were a lot of Japanese girls! hehe...
Crossing the road to interweave into another street in Harajuku.
My travel companions, Grace and Ning enjoying their sweet bread-like sticks.

Shopping at Harajuku. Ning bought a pair of boots from this shop...nice boots!
Fashion at Harajuku. Too bad I didn't meet more of this Harajuku fashionitas and cosplays personality.
We found this at the Tokyo Metro, an alternative commuting service in Tokyo.
Time for some soup! Very delicious soup served with bread or rice. I opted for bread since I think I had too much rice during this trip. Highly recommended, Soup Stock Tokyo.

Here is Ginza, an upscale shopping and entertainment district in Tokyo.
The roads were closed for pedestrians, and there were really really a lot of people on the streets!
And lots of dogs as well. I just realized this but most of the time the owner had two dogs with him/her.
And the Nissan showroom in Ginza was exhibiting this concept car. We intended to go in and snap a photos only but the retail assistants were very warm to greet us.
I found this stall at the subway. The one and only stall that I found where people stand and eat throughout my travel in Tokyo.

A caricature artist working his wonder on the couple with his skill at the

Ueno

park. One can find many caricature artists like this one along the stairs leading into the park.

Ueno

park is one of the biggest park for

hanami

(

sakura

viewing) in Tokyo. Unfortunately, there was not a single sakura blossoms at the park when we reached there. Everything was so green which was true to it's name, the Green Park.
Finally I am in the post! Grace and I were photographed here at the entrance of the

Senso-ji

temple at

Asakusa

.

Asakusa

is famous for its many temples and various festivals.

Senso-ji

is the temple dedicated to the

Bodhisattva Kannon.
Once you pass the main gate, you will come to this place where there are a stretch of stalls on both sides leading into the temple. These stalls are mainly selling food, snacks and souvenirs.
I don't usually dig

mochi

(rice cake) with red bean fillings but this place has some really good

mochi

.
This stall has some unique and delicious snack. Look at Ning savoring the snack!
Crunchy on the outside, soft on the inside, a little spicy and sweet. This is very yummylicious~
Another view of the stalls opposite the trees (which i assume is the sakura trees).
A Japanese dragon carving at the temple.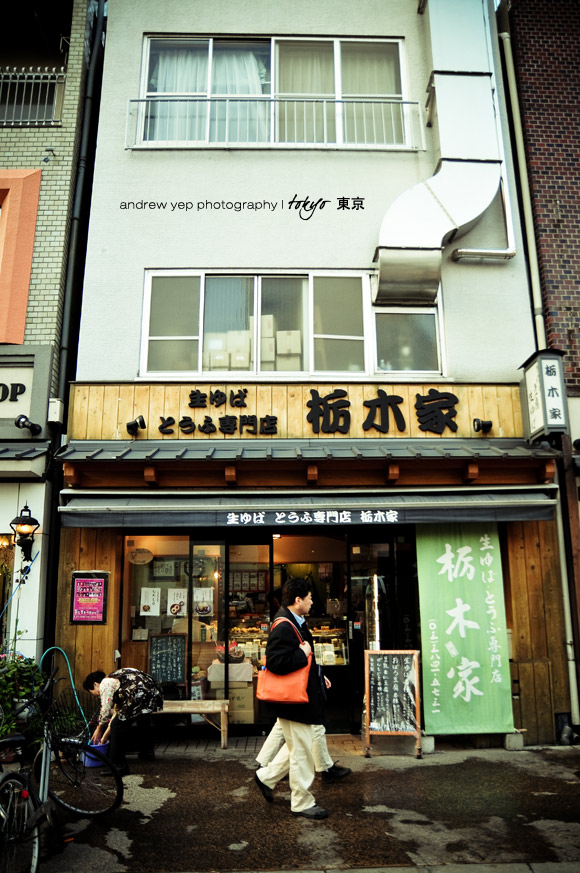 When we turned into a small street adjacent to the temple's street, it lead us to a row of small shops like this.

Found an antique camera shop here. The cameras here are very very expensive, some selling as high as 200, 000 yen and more.
Bicycles were quite common on the streets. A lot of bicycles like this one could be seen locked along the railings on the streets.
This brings to the end of my Tokyo travelogue. This trip has been fabulous and I hope to come back again soon. And thank you to Grace, Ning, and Jimmy as they have been excellent travelling companion on this trip! Sayonara for now...