Andrew Yep Travel & Photography
Sawadee-kap! First travelogue this year and it has taken me some time to post this. More trips coming up so I have to clear some of my travelogue. It's always a pleasure to visit Bangkok as I love the vintage shopping, Thai massage, and the spicy tom yum!
For this trip, we went to Chatuchak/Jatujak weekend market, Talad Rot Fai, Maeklong Railway Market, and Damnoen Saduak Floating market, and of cause multiple Thai Massage! Among the lot, Talad Rot Fai and Maeklong Railway Market stand out to me the most. The similarity between both is they involve trains. Talad Rot Fai is a cool place in Bangkok where you can shop for antiques and vintage stuff. As for Maeklong Railway Market it is unique whereby it's a wet market that besides a railway track and trains run through it several times per day. Let's do the visit the pictorial way...
Above: Add-ons for your noodle. Chili, chili powder, msg, nuts.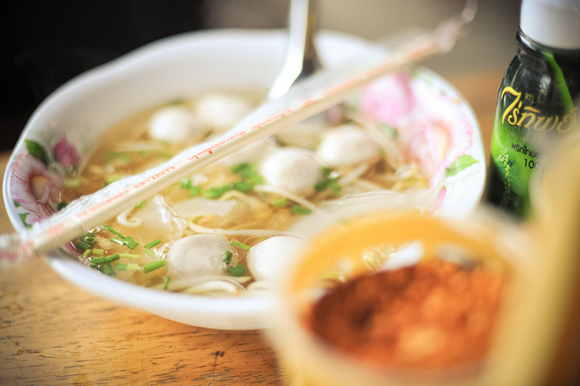 A delicious meal of noodle at Chatuchak (Jatujak) market.
A flyer that was given out to me.
Sorry, non-halal. A stall selling some yummylicious pork!
Above: Guess what are these? Ice cream potong ala Thai street style.
This is really kinda special and delicious. Spicy chicken noodle with broth that taste a bit like spicy bak kut teh soup.
Shop and rest.
Trees.
Furniture.
We found Talad Rot Fai after a fifteen minutes walk from Chatuchak (Jatujak) market. Cafe at the old train station.
Gone with the wind.
The cafe inside the old train station.
I have always wanted one of this when I was a kid.
Everything antique and vintage. An old chair, some old toys, vintage electonics, vintage luggage.
Vintage Volkswagen van... would love one in my garage.
Pepsi or Coke?
Wonderful place to chill. An old train station in the past, a cafe and some antique shops now.
Toy cars.
I love toys.
You can really find and get everything from Talad Rot Fai!
You can even get a cab for real here.
More antiques.
Really a nice place for photographers.
Diesoline?
An old counter which used to sell train tickets. Not sure what are they selling now.
I think they need a more secured lock.
Lots of antique vans converted into diners in Bangkok.
We went to this cafe instead, very nice to chill and just watch people.
This cafe is antiquely done.
Table No.5, but this is not our table though.
Our table, No.9.
Next day, off to Damnoen Saduak floating market,about 90 minutes drive from Bangkok city.
This place would have been great if it's not so commercialized.
The floating market is a great place for good food nonetheless.
Our first time having this and it was so delicious we stop and buy whenever we see this. I still think the one at Damnoen Saduak is the best.
A lot of boats here, and first time experiencing canal traffic jam.
We didn't buy anything, we just eat non-stop.
Just the 3 of us.
Next, Maeklong train market which was just a short distance away from the floating market.
City boy and girl playing with train track. LOL
Newspaper time.
The Maeklong train market is literally on the track.
Smallest watermelon we have ever seen.
Pancake time again.
This is the nice lady selling the pancake.
I think these have Chee Heng's name on the packaging. LOL.
Looks like meat balls but it's actually made of rice.
Snacking...
This is our lunch stop-over.
Noodle soup with longan herbal ice. Very yummylicious!
A Japanese dude like us waiting for the train to come.
The market folks preparing to clear the track as the train approaches from a near distant.
A railroad car checking and making sure the track is cleared.
The train approaches.
There was hardly much space between the train and me.