Last August, I had the opportunity to go back to Hainan to perform some prayer rituals for my late grandparents. I'm half Hainanese as my mom is descendant of Qiong Hai, Hainan. We did some sight seeing in Haikou, Sanya before going back to Qiong Hai.
To me, Hainan is really fast developing into a major city cum resort island. Its generally clean and there were a lot of housing and resort developments. The only negative was that the people can be rude sometimes. I am glad that we did this trip. A first oversea family trip for me and we met a lot of never seen before relatives, and of course we were back to my grandparent's ancestral home and the village is kinda cool!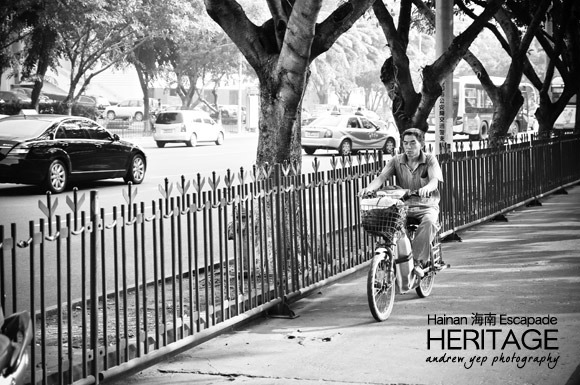 Bicycle, electric bike and scooter are some of the common transport here. Alleys like this are meant for the bikes so becareful when you cross the road. Actually, always look left and right when you cross the road, vehicles are coming from all directions.