KL STREET SHOOT


Recently, I have been caught by the film photography bug. So here is another series with my new Fuji Zoom Date f2.8. And I was also trying my hands on the rangefinder, Ricoh 500G. Freestyle shooting, wandering around the streets of KL. It's been a fun outing as always. Can't wait for the next one as always...


Fujifilm Zoom Date f2.8 with Fujifilm Superia 200
Sherrina with her Fujifilm Zoom Date f2.8.
Look closely and there are a lot of nice architecture to shoot in the streets of KL.
Kerry and the twin doors!


Winds of Desire~
Anyone fancy any Mix Rice a la Filipino style?
The Yellow Cab Vespa(s).
Street hopping.
Taking LRT...been ages since I last ride one in KL.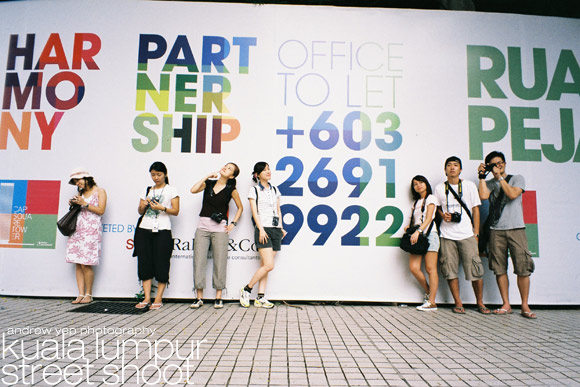 The gang...almost all
Please call the number for photography services.


The towers of KL.
This one came out distorted but i still like the blue color.
Kerry, Behn and I. Guess who is who. lolz.
Lee Yean and Behn, both in photographer mode.
Pigeons
Kerry
The sisters
Ricoh 500G with Centuria 100
The Fuji gang!